When planning a weddings in Helen on a budget, you have to be prepared to do things outside the norm.  You might want to consider planning your wedding carefully and investing a little more time to think about budget, rather than spending a lot of money. Look at some of these straightforward, yet tremendously efficient, weddings in Helen preparation tips.
5 Marvelous Weddings in Helen Planning Tips…
- Wedding Gown. Your wedding dress does not have to be encrusted with diamond jewelry for you to look fabulous in it.  The Duchess of Cambridge beat you to it. In fact, you could easily pull off wearing a dress which was worn by your mother, grandma, aunt, or perhaps your mother-in-law. Get a good seamstress to make alterations to the gown and you'll save a massive amount of money.
- Reception Foods. Escape from having a seated dinner at your wedding reception; it is too costly. Think about doing a buffet type wedding dinner with low cost, yet appetizing food items, that your family and friends will enjoy. Bear in mind, you won't have to serve beluga caviar for the wedding party to be classy — just get it cheap and keep it simple. With dinner being one of the largest expenses for the weddings in Helen, this idea should be of enormous assistance when trying to save some money on the budget.
- Wedding invitations. Invite those you like, not who you "know". Weddings in Helen on a budget involve sacrifice — as a result, you will NOT be able to invite everyone you've ever met. Keep the invitation list as small as possible to cut back on spending. The more individuals that come, the more pricey the wedding will get, period.  Quick tip: A bigger group will NOT make the celebration any more enjoyable.
- Make A List. A checklist of everything you need at the wedding is essential. Every last conceivable detail has to be considered and then put onto the list. When the list is finished, order everything from most important to least important. This will help you make those essential "keep or kick" decisions down the road.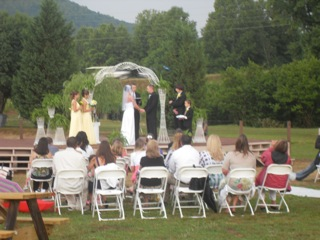 -Hold your outdoor weddings in Helen right here at Gabby's Cabins. We have special discount rates for our 3 and 5 day breaks, so holding your Outdoor Weddings In Helen right here at Gabby's Cabins is a money-saving tip you can't ignore. All our Cabins are of the highest standard, with the Family Cabins having in-room Jacuzzi's. For the Bride and Groom, our Private Couples' Creekside Cabins offer the use of built-in Red Heart Shaped Jacuzzi's, just to make your stay with us here at Gabby's Cabins a little more special
As you have seen, all it takes is a handful of straightforward tips & money saving suggestions and your wedding on a budget can be just as wonderful and fun-loving as those costly, fancy wedding parties you've read about.
For more information regarding available dates here at Gabby's Cabins please contact us via our email address