Outdoor Weddings in Helen
 Having an Outdoor wedding in Helen, GA can make an unforgetable wedding day. Gabby's Cabins in Helen GA is a fantastic venue to hold your very special event. Everyone wants their wedding day to be the most memorable, and special it can be. The right dress, the right make-up and hair stylist you know you want everything to be just right on your wedding day. Gabby's Cabins offers an exclusive outdoor venue, just right to host your special event. 
If you are not local to Helen and looking for that perfect romantic getaway, Gabby's Cabins in Helen in the foothills of the Appalachian Mountains is set on 18 acres of beautiful Georgia Countryside, in White County, GA. Close to Alpine Helen and the Blue Ridge Mountains, Gabby's Cabins in Helen is a very romantic setting upon which to launch your married life with a host of beautiful memories, starting with your Outdoor weddings in Helen.
For many couples, an outdoor wedding in Helen GA, is a dream come true. Walking down a green aisle surrounded by stunning natural wonders always makes this celebration much more wonderful.
There are many aspects to take into account whenever you plan functions in the outdoors. Here are several tips to help you along all the expected and unpredicted aspects of your wedding day so that you can have a totally relaxing, Outdoor Weddings in Helen.
This is the first and most crucial part of planning your outdoor weddings in Helen the ideal location! One thing to take into consideration is whether or not to plan on your wedding ceremony, as well as reception, at the same location.  This may the help you save quite a lot of money, planning and critical coordination. You would also have more time between the ceremony and reception to spend with any family, friends and guests – the day goes by fairly quickly as is!
 

Outdoor Weddings In Helen At Gabbys Cabins in Helen.
You need to be sure that the location you choose will be easily accessible for any of  your aged or impaired visitors, and that the handicapped access and amenities also take this into consideration. Be sure that the sound system and quality are appropriately arranged in order that anyone attending can hear the ceremony and enjoy the reception. Music that is too loud is not good; remember this is not a bachelor party.
Outdoor Weddings in Helen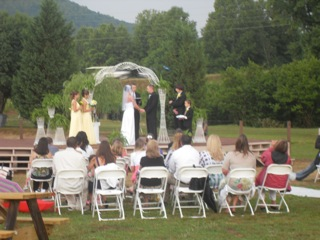 Having outdoor weddings In Helen usually means you have the beauty of nature encircling you. In many cases, utilizing some decorations and adding some color and floral arrangements to the table can be quite lovely. There are many different options that we are happy to  discuss, here at Gabby's Cabins in  Helen.  As with any outdoor weddings in Helen, a lot of the decorating is done for your naturally, depending on the time of year.  However, we are happy to help you with any specifics that you would like.  After all, here at Gabby's Cabins we understand just how important your Wedding Day is to you.
For more information on hosting your outdoor wedding in Helen at Gabby's Cabins, feel free to visit our website, or click the link below and send us an Email.  We will be happy to help you find resources for your outdoor weddings in Helen.
Our Private Creekside Couples' Cabins offer great accomodations at the end of your wedding in Helen. They are all equipped with easy-to-use Red Heart Shaped Jacuzzi's to help make your stay with us just that little more romantic and memorable. For a range of additional extras please see our Make Your Stay More Special Page .
For more information regarding available dates here at Gabby's Cabins in Helen please contact us via our email address