Oktoberfest in Helen Parade 2011
Saturday, Sep 24 12:00p to 1:00p
at Helen, GA
Celebrate the opening of Oktoberfest in Helen 2011. The parade will begin at the
Festhalle, wind it's way to Chattahoochee, then north on Main St. to Betty's Grocery Store. The "tapping of the keg" follows the parade.
Helen, Georgia is hailed as Georgia's home of "Mountain Beauty with a Touch of Bavaria." Also known as Alpine Helen, this is the home of Georgia's largest and longest Oktoberfest.
Oktoberfest in Helen, Georgia begins late September and runs through October. Oktoberfest 2011 will be holding its annual Oktoberfest in Helen celebration parade on Saturday 24th September. Oktoberfest in Helen, Georgia is the longest Oktoberfest celebration in the southeast.
There is no more authentic place in the South to celebrate Oktoberfest, other than celebrating Oktoberfest in Helen, Georgia.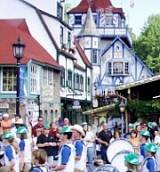 Enjoy the sights, sounds, tastes and smells of Bavarian-Alpine Germany, right here in North Georgia. The entire village of Helen is reminiscent of Bavarian Alpine Germany, from building facades to shops, food, and beer. It is the perfect place to celebrate Oktoberfest.
Center stage for Oktoberfest in Helen is at the Festhalle, a walled, covered pavilion open only on the side of the Chattahoochee River. Enjoying the village of Alpine Helen, Georgia is free, but there is a small fee to enter Festhalle, where you can enjoy German beer and lagers while you listen to the sounds of German style bands. Watch dancers and servers in Liederhosen and enjoy brass bands, Alphorns, and accordions.
Many visitors to Oktoberfest in Helen, Georgia can't help but take to the dance floor in
Festhalle, for traditional German dance. The music infuses everyone's spirit, especially as they loosen up with a few swigs of German beer.
Gemuchlikeit (Gemutlichkeit), the spirit of friendship and fun that is an integral part of Oktoberfest in Helen, and it floods the entire Alpine Georgia village.  
During Oktoberfest, visitors can fill up on German foods, including the tastes of bratwurst, fresh bread, delicious chocolates, and hot, fresh pretzels. You can also shop for souvenirs or browse German style shops, including a glass blower. You'll be romanced by the sights and sounds of a quaint village music box shop.
Stay At Gabby's Cabins For This Years Oktoberfest in Helen
Stay in one of Helen, Georgia's affordably cabins, here at Gabby's Cabins we have several styles of cabin from our basic affordable cabins, through to secluded and more romantic cabins, fuly fitted with red heart shaped jacuzzi's. Save time to shoot the hooch and explore nearby trails and falls. Don't forget to take the family horseback riding to enjoy the flora and fauna of the surrounding foothills to the Smokey Mountains.
You'll find shops selling mineral and crystal formations, the likes of which have been sent from Georgia to the Smithsonian Institute. Explore the mountains and creekbeds and you may find gemstones and minerals on your own.
There is so much to see and do, Oktoberfest in Helen only enhances the atmosphere of the Bavarian Alpine village. Visit during Oktoberfest 2011 and you will feel the spirit of Gemuchlikeit. Oktoberfest in Helen, Georgia provides a celebration, weekend getaway, or vacation the entire family can enjoy.
Contact us here at Gabby's Cabins to arrange your accommodation for this years Oktoberfest in Helen